Overview
---
The all-new 2021 Honda CR-V offers the perfect combination of functionality and style. Starting at just $25,350 MSRP, the compact sport utility vehicle is a Kelley Blue Book Best Buy pick and was named one of the best options for the price in its sector by U.S. News. Well-qualified buyers get 0% intro APR financing. Contact your local dealer for financing details.
Safety
Safety Over the past decade, midsize SUVs and crossovers have become an increasingly popular choice for a family car because of their advanced safety features. The new CR-V is at the forefront of the development of safety technologies. The Honda Sensing Suite features an array of driver-assistive technologies designed to help keep you alert to changing road conditions while driving, including lane-departure warnings (RDM) and a collision mitigation braking system (CMBS), which automatically stops your vehicle when a potential frontal collision is detected.
The 2021 Honda CR-V's advanced safety technology uses radar to determine activity on the road, which is especially valuable on long highway drives. The Lane Keeping Assist System (LKAS) and Adaptive Cruise Control (ACC) features adjust your steering and acceleration based on detected vehicles around you, so you can drive with confidence and ease without worrying about a potential collision.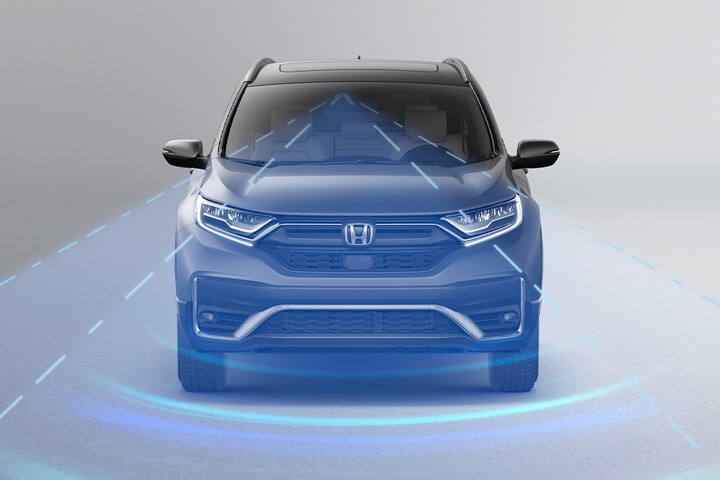 Built to handle any adventure, the CR-V is designed to defy any poor weather conditions or rugged ground. The Real Time AWD system uses sensors to determine when you need a little extra power, and sends torque to the rear wheels when you need it.

The CR-V Hybrid car has been the best-selling crossover vehicle on the market for the past 10 years, for good reason. The advanced model has an available hybrid powertrain that offers all-wheel drive for a riveting electric driving experience.
The Hybrid model provides powerful horsepower and competitive fuel efficiency rates, with a notable 40-mpg city rating. The electric motor, combined with e-CVT transmission, packs an impressive punch in terms of efficiency and acceleration.

The 2021 CR-V boasts a competitive fuel economy mpg rating of 28/24 city/hwy, making it one of the most fuel-efficient models of its class. The new and improved model also features Honda's first turbocharged engine, a 1.5-liter, 4-cylinder unit that powers up to 190-hp to facilitate a dynamic driving experience. The 2021 CR-V offers a refined driving experience and a responsive braking system.

The latest CR-V model comes equipped with a wide array of features and amenities including blind-spot monitoring, quick-heating front seats, and a standard 7.0-inch touchscreen with Apple Carplay and Android Auto capabilities, heated front seats, and more.
The convenient phone integration system allows you to access important information and media using the touch screen, so you can focus on the road. USB ports are also available in both the front and back seats, so you'll never go without a charge. The CR-V Touring trim level even comes equipped with a convenient wireless phone charger, so you'll never have to fuss with wiring to stay connected.
The Honda CR-V is designed with style and functionality in mind. The compact crossover features two-row seating and spacious cabin and storage space. In addition, the CR-V has massive cargo space, with a cargo area of 39.2 ft cubic feet, and 75.8 cubic feet of cargo capacity with the rear seats folded down
The updated design makes loading your vehicle with cargo simpler than ever, with hands-free access power liftgate that opens without you having to search for your keys, as well as a pull-down lever conveniently located in the cargo area for an adjustable 60/40 split rear loading area.
The stylish interior features high-quality materials and has a modern, elevated feel with wood and chrome finishes and sculpted seats. Available leather seating and steering wheel elevate the interior to sublime luxury at an affordable price point. The front passenger seat is equipped with available 4-way power seat adjustments that are customizable to provide lumbar support, while the driver's seat features a customizable 12-way adjustable power seat.
The 2021 CR-V is built to suit your lifestyle. The new model combines sophisticated style and elevated design with durability and utility. The vehicle's sculpted frame is accented with chrome detailing and refined wheel arches for a modern, dynamic look. With sleek curves, dual chrome exhaust pipes, and a bold sporty front grill, the luxury SUV radiates boldness.
The new model comes in an array of elevated 8 premium metallic and pearlescent color options on the EX, EX-L, Touring, Hybrid EX, Hybrid EX-L, and Hybrid Touring trims. In addition, the updated CR-V also comes equipped with style-conscious LED fog lights to provide increased visibility when you need it, in all weather conditions.